Rehoming Your Golden Retriever
Deciding that you are not able to provide your Golden Retriever with the life that he or she deserves can be a heartwrenching decision. People relinquish dogs to Golden Bond Rescue for many reasons. Divorce, moving, allergy of a family member, illness or death are all routes that Goldens have come in to our care. We also get dogs who have been been surrendered to the local animal shelter. (Oregon law requires strays to be surrendered to animal shelters — not Golden Bond.)
Regardless of how a Golden comes into Golden Bond Rescue, our goal for each dog in our program is the same: we strive to find them a loving family where they can spend the rest of their lives. If you have or know of a Golden Retriever who needs a new home, please call our voice mail at 503-892-2897. The name and phone number of the volunteer taking incoming calls for the month will be listed. The incoming call person will conduct a telephone interview, then arrange for an evaluator to come and meet your dog.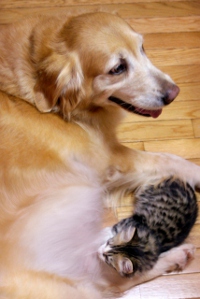 Once evaluated and accepted into our program, your dog will be placed in a foster home and the process of finding the right home begins. The process of evaluation and placement into foster care can take several weeks unless the situation is a true emergency. We appreciate your patience with this process.
For every dog we rescue, Golden Bond Rescue incurs expenses. These may include immunizations, physical examination, food, foster care and transportation. If you relinquish a dog to us you will be asked for a voluntary, tax-deductible contribution toward these expenses. In addition, we will ask you to have a veterinarian test your dog for worms and update all required immunizations. All of our adoptive families are screened and go through an interview process before adopting a dog from us. We are proud of our success at making "love connections"! Since our inception in 1990, we have placed more than 2,300 Goldens into new loving families. Our Success Stories page has some of these love matches!