Annual Picnic – August 30 CANCELED
The lake (which is not near the picnic area) at Charlton Kennels is closed. We ask that all dogs be kept on leash unless participating in one of the games.
Come join the fun at this year's Golden Bond Rescue Annual Volunteer Picnic!
Where: Charlton Kennels, 13825 NW Charlton Rd, Portland, OR 97231, On Sauvie Island
When: August 30, 2020, 11am to 3pm
Annual PicnicWho: Everyone and their dog(s) are invited. You don't have to have a golden to attend.
What: Bring your own picnic lunch and non-alcoholic beverage, sit back and relax. This is your dog's day to mingle! There are picnic tables but bring your own chair and/or blanket if sitting on a hard bench is not appealing
Featuring first time ever: Homemade Ice Cream Bar!!! Bring a topping to share, e.g. nuts, chocolate sauce, cherries, whipped cream, caramel, sprinkles – you get the idea.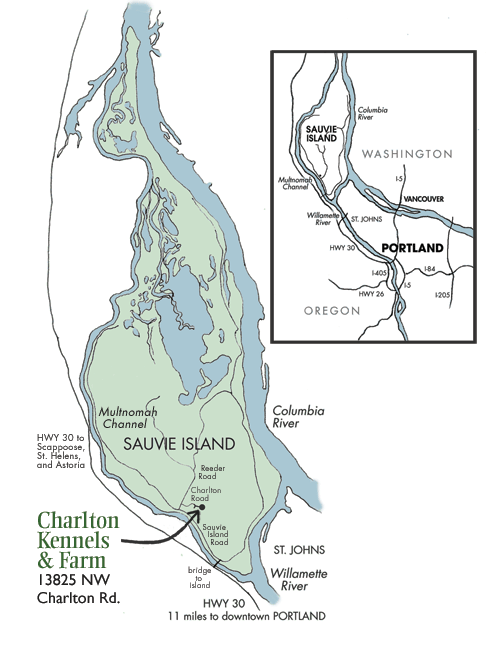 Directions:
Charlton Kennel is located on Sauvie Island at 13825 NW Charlton Road, Portland, OR 97231. Do be aware that MapQuest directions are incorrect!
Sauvie Island MapTake Highway 30 North, toward St. Helens and Scappoose. Turn right onto the Sauvie Island Bridge.
At the end of the bridge ramp, continue straight, past the small store on your left. Follow the dike road about 1 1/2 miles to the fork and turn right onto Reeder Road.
Go about 1/4 mile on Reeder Road, then turn right, immediately before the school, onto NW Charlton Road. Follow this road as it curves left, then right. At the top of the hill you will see the brick gates of Charlton Kennels and Farm straight ahead of you.
Drive down the one lane driveway through the fields and past the small river to the main parking area. Follow the signs to the picnic area.
All dogs must be kept on leash unless running one of the games.